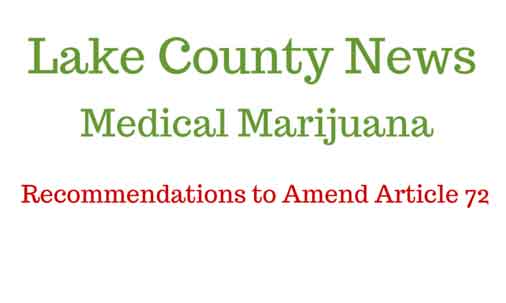 Lake County Board of Supervisors will meet tomorrow to discuss and consider the Medical Marijuana Ad Hoc Committee's recommendations to amend Article 72 of the Lake County Code.  This issue is listed on the Agenda under item 8.8 and is scheduled to be heard around 10:15 a.m.  Any person may speak relating to an agenda item, but comments are limited to three minutes per person.  It is strongly recommended that cannabis operators voice their opinions in a proactive educational manner that will allow the governmental officials to hear legitimate concerns from operators, and give the Board of Supervisors an opportunity to consider other options that may be available for the proposed ordinance.
Recommendations to Amend Article 72
The latest proposed ordinance contains several changes to the current ordinance for medical cannabis cultivation, which include different requirements for parcel size, zoning, indoor/outdoor cultivation, permitting requirements, taxes, grounds for denial of permit, etc.  Under the proposed ordinance, Cultivation permits must be obtained by the county prior to cultivation; such permits are only valid for a twelve month period, and must be renewed annually.  The County's proposed ordinance only allows 100 cultivation permits for outdoor cultivation to be issued in a twelve month period.
There is certainly some language in the proposed ordinance that is very restrictive and will eliminate the opportunity for many qualified patients and cannabis operators to apply for cultivation permits.  According to the proposed ordinance, a permittee cannot have any felony or misdemeanor convictions deemed by the Sheriff to be reasonably related to the qualifications, functions, responsibilities, or duties expected of the permittee in relating to maintaining a cultivation permit.  A permittee will be denied a permit if he/she is found to have a history of fines or penalties for violation of local ordinances within the past three years.  Operators who intend to apply for permits in Lake County that are negatively impacted by this language are strongly urged to offer public comment at the Board of Supervisor Hearing tomorrow.