California State Commercial Cannabis Cultivation Regulations Being Drafted by CDFA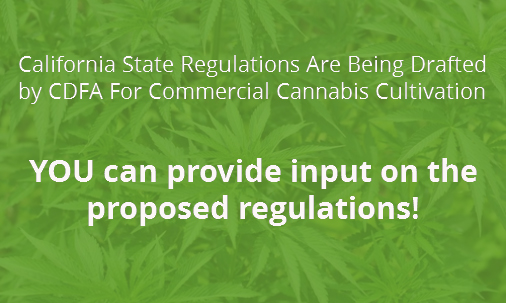 The state agency in charge of creating cannabis cultivation regulations for medical cannabis cultivators, California Department of Food and Agriculture (CDFA), in conjunction with the Medical Cannabis Cultivation Program (MCCP) has prepared the first draft of cannabis cultivation regulations for cannabis operators to commercially cultivate cannabis in the state, as well as the requirements to apply for licenses.  These regulations are being developed as a result of legislation passed (initially known as the Medical Marijuana Regulation and Safety Act) now known as the Medical Cannabis Regulation and Safety Act (MCRSA).
Help Policy Makers Develop Commercial Cannabis Cultivation Regulations
Cannabis cultivators have a rare opportunity in history to help policymakers develop regulations that are reasonable for operators to comply with, while maintaining necessary protections for the general public. If you want to operate a cannabis business in California, your input is very important, and you should provide public comments to assist the state in developing regulations that are consistent with your goals and plans.
On September 1, 2016, CDFA released the first draft of the cannabis regulations. CDFA wants your feedback, and public comment can be submitted to CDFA until September 30, 2016.  You can provide comments on the proposed regulations and offer solutions or recommendations for items you do not agree with or that you would like to have clarified further.
Commercial Cultivation Draft Regulations
You can find the draft regulations here.  This notice describes the program, remaining upcoming stakeholder workshops, and also includes the draft regulations for cultivation (starting on page 6).
CDFA has released a survey with seven Regulatory Goals that relate to the draft cultivation regulations, and they have specifically requested feedback in those seven areas.  Here is the survey
Public comments can be submitted via e-mail: mccp.peir@cdfa.ca.gov, or mailed to: California Department of Food & Agriculture Attn: Amber Morris-Medical Cannabis Cultivation Comments, 1220 N Street, Suite 400, Sacramento, CA 95814. Contact MCCP via email at  CDFA.MCCP@cdfa.ca.gov or by phone at (916) 263-0801
California Cannabis Cultivation Regulations – License Information
For information about licenses for medical cannabis transportation, distribution, laboratory testing or dispensaries, see Bureau of Medical Cannabis Regulation. For information about licenses for medical cannabis manufacturing, see Office of Medical Cannabis Safety.