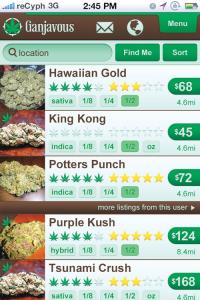 A medical marijuana app for growers and patients is in the making. According to this timesharoldonline.com article Fairfield real estate investor David Kling, a 38 year old self-described business man, has developed a new app for medical marijuana that will bring marijuana directly from grower to buyer.
Medical Marijuana iPhone App
"I'm a real estate investor, and as a businessman, there are (mobile) apps that I depend on for my business that are oriented toward real estate, specifically foreclosures," said Kling during a recent interview.  Kling further states: "So, really, what I did, was I molded this app kind of after the business apps that I use for real estate" and he applied it to the medical marijuana field.
Kling is also ready to introduce a smart phone program on the iTunes store in coming weeks. The "Ganjavous" app would allow growers to post photos and prices for their medical marijuana, and utilize phones' GPS to connect nearby users.
"It's like 'rendezvous,' " Kling said, explaining the app's name. "It's a scheduled time and place where people meet for cannabis."
Mr. Kling's iPhone app is only the latest entry in what is rapidly becoming a crowded field.  A search for "medical marijuana" iPhone apps currently returns 61 listings and that number is certain to… grow.