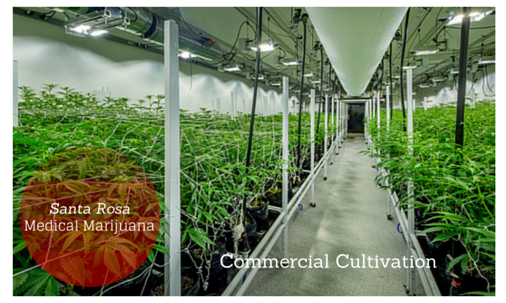 On March 15, 2016, the City of Santa Rosa adopted a new ordinance that allows for medical marijuana commercial cultivation in specific industrial zoning districts in the City of Santa Rosa, with a Conditional Use Permit.
Medical cannabis commercial cultivation operations up to 10,000 square foot will be allowed with a Minor Conditional Use Permit.  Medical marijuana commercial cultivation sites of more than 10,000 square feet will be allowed with a Major Conditional Use Permit.  Permit fees for a major use permit are more extensive than the fees for a minor use permit.
The City of Santa Rosa Planning Department will be accepting applications for medical cannabis commercial cultivation Conditional Use Permits beginning on April 18, 2016.  Before any application can be completed, the applicant must have a property site secured where the intended use is allowed, and the applicant must have permission from the property owner to operate a commercial cultivation operation at that site.
Commercial Cultivation Application Process
The application process is extensive, and may seem overwhelming.  However, with the help of an experienced legal professionals familiar with current local laws, you can navigate your way through the process.
If you are interesting in obtaining a state issued license to cultivate cannabis in the City of Santa Rosa, once they are available from the State, then you must first obtain a Conditional Use Permit to cultivate commercially in Santa Rosa before the state will grant a state issued license.
State licenses are expected to be issued in 2017.  In order to obtain a state license, all applicants must show they are operating in compliance with current state laws and local ordinances, which include (but are not limited to):  payment of taxes, and obtaining local permits.  Applicants will not be issued a state license unless they first obtained a local permit to operate the cannabis business.
If you are interested in applying for a permit to commercially cultivate in Santa Rosa, please contact our office for more information.